Social History
Information on social and local history collections at the McLean Museum.
More information
The collection includes material relating to social amenities, entertainments and hobbies and all forms of amateur and professional sporting activity in Inverclyde. There are objects related to fraternal organisations and clubs, charities, trades unions, political organisations and other social and political organisations.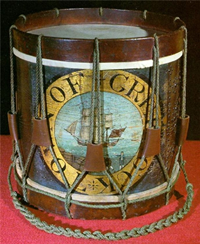 There are also items related to the governing of Greenock, Gourock and Port Glasgow, the growth of the burghs, including the incorporation of surrounding villages such as Wemyss Bay, Inverkip and Kilmacolm into Inverclyde.
The collection reflects civic responsibility for a wide range of public services such as policing, fire brigade, trading standards, transport, water supply and sewerage, housing, public health and public utilities.
Local industry is well represented with objects from the shipbuilding and sugar processing industries in addition to items concerned with rope making, whaling, banking, seafaring, tailoring, electronics and computer manufacturing, retailing and land transport.
The history of conflict in the area can be seen in objects relating to local militia, volunteers, defence units and regiments from the eighteenth century onwards including badges, medals and uniforms.
This collection is the largest collection of items with Inverclyde connections and as such it occupies a unique place. It documents the personal, working and social life of Inverclyde over the last five hundred years and is valuable resource for Inverclyde's residents and those researching Inverclyde's past.