World Cultures
Information on the World Cultures Collection at the McLean Museum.
More information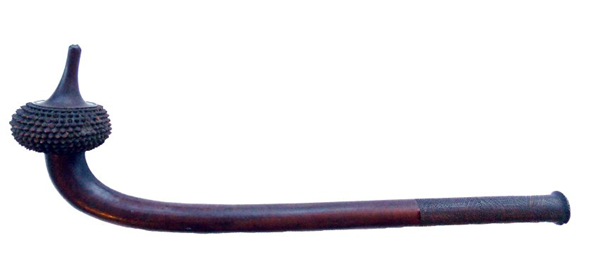 The World Cultures collection contains items from all over the world but has particular strengths in the cultures of Asia, Africa and Oceania.
There are currently around 1800 items in the collection mostly dating from the nineteenth and twentieth centuries and the types of objects include weapons, domestic, religious and ceremonial items, clothing, musical instruments and personal items such as jewellery.
The collection contains Japanese items from the 16th century onwards. It includes armour, swords and sword fittings, lances and other military items as well as decorative art objects such as ceramics, inro, lacquer work, netsuke, printed items, wood carvings, equestrian items and costume.
The World Cultures collection at the McLean Museum is one of the top half dozen collections of its type in Scotland. This collection has an important historical role in that it documents the activities of people from the Inverclyde area as well as Inverclyde's connections with the wider world. Many of the items were donated by seafarers, merchants, missionaries and others from Inverclyde who made their careers in the far flung parts of the world.
Today the collection contributes to the understanding of the diversity of human cultures and creates an awareness of the historical traditions that shaped them.