About Paying Council Tax
Manage your Council Tax online
www.inverclyde.gov.uk/counciltaxonline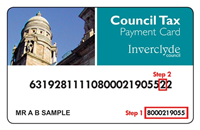 Do it online
Click on the link under External links to pay your Council Tax online.
Please input your 13 digit Council Tax reference number that is shown on your bill.
OR
If you have a Council Tax payment card please enter the reference number by following the steps below using the sample card as a guide:
Input the ten digits reference number shown on the bottom right hand side of your card e.g. 8000219055
Next input your check digit (always second last number of the long number across the middle of the card) e.g. 63192811110800021905522
Lastly input the year in which you want to pay e.g. 8000219055221
Direct Debit
This operates by giving a simple instruction to your bank or building society, which ensures the correct amount is transferred from your bank account to the Council's when it is due. Payments can be collected on the 1st, 7th, 14th, 21st and 28th of each month. We also offer weekly Direct Debit every Thursday. You can also choose to pay over 12 months.
We will tell you in advance if the amount due changes and you can cancel the arrangement at any time and pay by a different method. If you do not already pay by direct debit and wish to do so telephone 01475 712961 and an advisor will take you through the process or alternatively download a direct debit mandate.
Direct Debit is the only payment where you have variable dates.
Barcoded Bill
You can pay using your barcoded bill at any Post Office or any shop that displays the PayPoint logo. A barcoded payment card can also be requested by telephoning 01475 712961. Payment should not be delayed pending receipt of a payment card.
Postal Payments
Send your payments to Inverclyde Council, P O Box 9467, Greenock, PA15 1JD.
Please quote your reference number on the reverse side.
Telephone Payments
Payment can be made by debit or credit card by phoning the automated payment line on 0845 309 6062 (24 hours) or 01475 712590 (office hours).