Health and social care services
In line with the latest government announcements regarding social distancing, key services and tackling this virus all HSCP offices are closed to the general public until further notice. Staff are still working to deliver key services across a number of service hubs. Access to all buildings will be by appointment basis only. Contact details for all care hubs and HSCP buildings are below:
Service Hub

Location

Phone No.

Adult Services

Port Glasgow Health Centre

Access 1st

Tel: 01475 714646

Email: access1st@inverclyde.gov.uk

Assessment and Care Management (ACM)

Tel: 01475 715010

Email: acm@inverclyde.gov.uk

Children /

Criminal Justice

Hector McNeil House, Greenock

01475 715365

Mental Health

Crown House, Greenock

01475 558000

Alcohol & Drug Services

Wellpark Centre, Greenock

01475 715353

Homelessness

Inverclyde Centre, Greenock

01475 715880

Emergency Out of Hours

Glasgow Out of Hours

0300 343 1505
Services are operating under three key principles:
Keep people healthy
Managing delivering services by providing a minimum necessary risk based service
Delivery of key services by telephone contact and arrange visits as required
Care and support at home
The protocol below was agreed at the corporate management team (CMT) to manage the home care service as a result of staffing pressures from coronavirus (Covid-19)
Inverclyde HSCP and commissioned providers for care and support at home will reduce service to essential tasks only on a phased basis within the following protocol.
Any identified risk or service user/carer concern should be directed to the 'access 1st team' on 01475 714646.
Each care at home provider has responsibility to identify essential tasks for individual service users and inform service user/carer. Essential tasks include moving and handling, personal care and medication support. All providers should inform the HSCP of any change in care package via the homecare monitor inbox as per normal procedure.
All essential visits should be kept to the minimum requirement, times and length of visit may vary from the norm.
Provider should continue to log in and out as normal procedure to confirm service user has received a visit. Temporary payment rules will be confirmed separately.
Alternative arrangements should be identified for meal provision. In the first instance service users should be asked if alternative arrangements can be made. If an able person resides in the same home they will be asked to provide meals.
Where there is no available alternative the home support manger for the area should be informed. HSCP and CVS Inverclyde will co-ordinate the provision of meals.
General guidance as follows:
No domestic tasks to be carried out unless essential, e.g. personal care laundry. Staff will wipe down surfaces, door handles etc during visits.
If appropriate, support with showering to be reduced to twice weekly for continent service users.
Support will be identified to assist with shopping for service users if no other means of support available.
Any requirement for home care service users who require shopping/supplies should be sent to Colin Paterson at HSCP home care, colin.paterson@inverclyde.gov.uk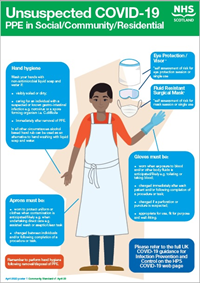 Care providers
Health protection scotland and the NHS have published updated guidance for social or community care and residential settings, it contains information on social distancing, visitors, shielding and admissions/transfers. This can be downloaded via the links on this page.