Inverclyde Music Service
Life without playing music is inconceivable to me. I live my daydreams in music. I see my life in terms of music... I get most joy in life out of music.
Albert Einstein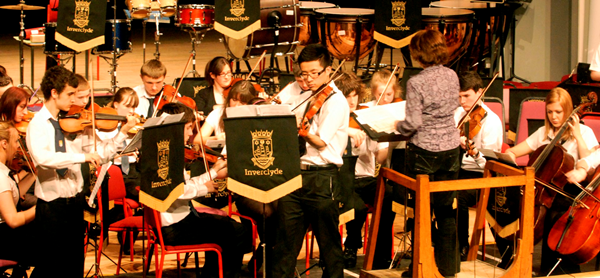 Inverclyde Music Service works across the authority to provide high quality musical opportunities for all children and young people.
There are many benefits to learning music:-
It may improve your child's educational attainment
It can help your child achieve through exams, gradings and competitions
It offers the opportunity to learn a skill for life
It builds confidence through performance
It provides great opportunities for teamwork and socialising
Instrumental tuition is the core of the work of the Music Service This is delivered by more than twenty music instructors who have individual specialisms enabling us to offer tuition on the full range of orchestral instruments, voice, guitar and bagpipes.
The Music Service does charge secondary age young people fees for instrumental lessons. However, if you are in receipt of benefits charges may not apply.
Alongside offering instrumental tuition, instructors also run many school orchestras and ensembles in both primary and secondary schools. These ensembles are renowned for their high standard of performance and are particularly successful in national competitions. Pupils are also invited to attend our Music Centre which runs on a Saturday morning offering specialist tuition on a variety of instruments.
Page last updated: 17 July 2019