Inverclyde Educational Psychology Service
More information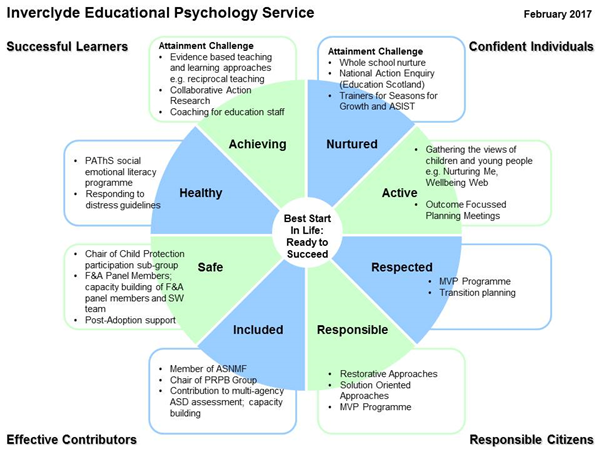 Operating as a statutory service within the context of Inverclyde Council and in particular, the Education Services, the vision of the Inverclyde Educational Psychology Service is:
To improve the impact of the Inverclyde Educational Psychology Service on the outcomes for all* children and young people in Inverclyde by adopting and developing a universal and inclusive service delivery model.
Our activities are clearly focused around the concept of a 'Nurturing Inverclyde' – the Council's vision to ensure that everyone has the opportunity to have a good quality of life, good mental and physical wellbeing. This approach puts the child, citizen and community at the centre.
* All children attending local authority provisions and/or those provisions within which the Local Authority has placed children or young people.
Between March-June 2017 a number of stakeholders, including educational establishments; pupils; and parents/carers, took part in our stakeholder feedback exercise. The information analysed in the course of this exercise was very positive and reflected the impact of the service. Consequently the feedback was used to help plan our service delivery for session 2017/2018.
Inverclyde Educational Psychology Service would like to thank all stakeholders who took part in this exercise.