Withdrawal from the EU (Brexit)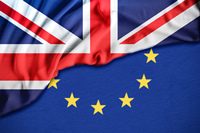 Brexit – what you need to know
The links on this page will provide useful information on Britian's withdrawal from the European Union (known as 'Brexit').
Brexit could include changes to a number of different things in your day to day life.
The links on this page include online resources from the Scottish and UK Governments and include information of relevance to business, European Union (EU) citizens living in the United Kingdom (UK) and UK citizens living in the EU.
EU Settlement Scheme (EUSS)
The EU Settlement Scheme is open and except in a few cases, European Union , European Economic Area (EEA) or Swiss citizens will need to apply to the EUSS. Irish citizens do not need to apply to the EUSS.
The link on this page will provide more information on who should apply. The web page includes a step by step guide to applying for EU settlement status. The guide has been translated into 26 European languages.
Eligibility will be based solely on residence in the UK. A person will not be refused status under the EUSS if, for example, they are not economically active.
Providing a National Insurance number is possibly the easiest way to prove residence but there is a list of suggested evidence that is accepted. Please note that a letter from a school showing the dates of enrolment and attendance, a letter from a registered care home confirming residence, and a letter from a public service stating the particular date or for a particular period the service was accessed, can be used as proof of residence for a period of time.
It is free to apply to the EUSS. If someone has paid a fee during the pilot phase, they can get a refund.
Supporting vulnerable citizens to apply
Scottish councils are providing an assisted digital service in libraries and community centres to support access to the EUSS. There is a list of assisted digital locations in Scotland available to view on a web link on this page – please note this list is updated frequently as more centres open.
COSLA will be working in partnership with the International Organisation for Migration (IOM) on their project and an IOM officer will be embedded within COSLA to provide Scotland-wide assistance to local authorities supporting vulnerable people through their application.
The Home Office is funding third sector organisations to support vulnerable citizens apply to the EUSS. Successful services in Scotland are: Citizens Advice Scotland (CAS), Community Renewal Trust, FENIKS, Fife Migrants Forum, International Organisation for Migration (IOM), Perth & Kinross Association of Voluntary Service (PKAVS), Positive Action in Housing, and the Simon Community – Streetwork.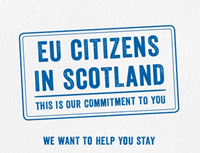 Stay in Scotland campaign
The Scottish Government 'Stay in Scotland' campaign and toolkit provides a package of support to help EU citizen stay. The Scottish Government is also funding Citizen Advice Scotland to provide an advice service for EU citizens who live in Scotland.