Allergy labelling legislation
People with food allergies have to be extremely careful about what they eat. Food labelling is therefore very important to those with food allergies as there can be potentially serious consequences from eating food to which they are allergic.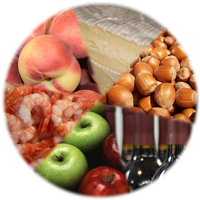 Since 13 December 2014, legislation (the EU Food Information for Consumers Regulation 1169/2011) has required food businesses to provide allergy information on food sold unpackaged, in for example catering outlets, deli counters, bakeries and sandwich bars.
More recent legislation - The Food Information (Scotland) Amendment Regulations 2021, known as Natasha's Law - has now made it mandatory for certain businesses which pre-pack food on their premises (prepacked for direct sale) to provide information by way of a label on each individual packaged item.
Inverclyde Council Environmental Health have identified food business which may be affected by this new legislation and have written to them advising of the introduction of the new legislation and also provided a link to useful information and guidance on the Food Standards Scotland website.
If you think your business may be affected by this legislation please use the links on this page to access information on the Food Standards Scotland website.
Alternatively, if you would rather speak to an Enforcement Officer regarding any aspect of the new rules, please contact the Customer Service Centre to speak to Environmental Health.
Food Standards Scotland have developed a training tool to help bring greater awareness about allergens in manufacturing and catering settings. This can be accessed using the links on this page.