Food Hygiene Information Scheme (FHIS)
The Food Hygiene Information Scheme provides 'at a glance' information about the standards of hygiene in food businesses both at the premises and on a national website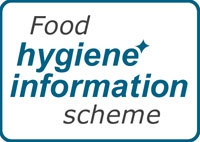 The scheme was developed by the Food Standards Agency Scotland supported by local authorities, consumer organisations and the food industry and applies to all outlets supplying food direct to consumers.
The Food Hygiene Information Scheme "opens the doors" on catering kitchens and retail shops where food is prepared or handled and is aimed at raising food hygiene standards and consumer confidence in order to allow people to make informed choices about where they eat or shop for their food.
There are just two possible ratings that a participating food business may be awarded:
Pass - This indicates that the business meets the legal requirements at the time of the inspection and that management procedures are in place to ensure the provision of safe food.
Improvement Required - This indicates that the business has not met the legal requirements at the time of the inspection and requires to carry out certain improvements in order to achieve a Pass standard.
Where a business has not yet been inspected because it is a new business or has changed ownership it will be issued with a temporary certificate advising consumers that it is Awaiting Inspection.
In some areas businesses serving very small amounts of low risk foods may be classified as Exempt. No certificate will be issued unless the business owner requests one and the exempt classification will be recorded in the register. There are currently no plans to exempt businesses in Inverclyde.
When certificates and stickers are issued the food business will be asked to voluntarily display them in a prominent position on the premises which is clearly visible to customers. It is anticipated that food businesses will be unlikely to display 'Improvement Required' certificates and that consumers will draw their own conclusions regarding the absence of displayed information.
As well as certificates being displayed on the premises, details of the results for all Inverclyde businesses are available on a national website. Details of results for businesses in all participating Scottish Local Authority areas will be available as well as details of results for businesses under the related 'Scores on the Doors' scheme in England, Wales and Northern Ireland. Inspection results can be accessed by clicking on the link provided on this page.
Further information about the scheme is available at the link provided on this page.