Workplace health and safety
Inverclyde Council's Environmental and Public Protection Service is responsible for enforcing Health and Safety legislation in a variety of workplaces.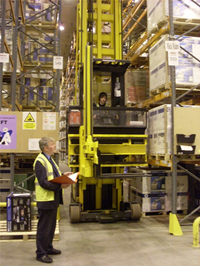 The Health and Safety at Work Act and associated regulations place duties on both employers and employees. These include duties to people who do not work for them which means that you may be protected by the Act even if you are not at work.
In order to ensure that employers are carrying out their duties, we carry out the following:
Workplace Inspections
We inspect all new businesses which are our responsibility as an enforcing authority. Existing businesses are inspected at a frequency determined by the level of risk they pose to employees and others. All inspections are unannounced. The link to the Enforcing Authority Regulations on this page will indicate whether your business is inspected by Inverclyde Council or by the Health and Safety Executive.
Accident Investigations
Major accidents (generally those involving fractures, admission to hospital etc) and accidents resulting in seven days or more off work should be reported. Defined "Dangerous Occurrences" should also be reported. Accidents and dangerous occurrences should be reported through the RIDDOR website - see under External links on this page.
Complaints
We investigate complaints and deal with enquiries from employers, employees and members of the public. If it is a matter for another authority, for example the HSE, we will ensure that it is passed to them for action.
Please contact us via the Customer Service Centre if you would like any information on Workplace Safety or click on one of the links under External links on this page.
Environmental and Public Protection - Helping people feel safer at work
Page last updated: 3 July 2018