Galoshans 2019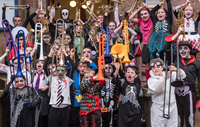 Now in its 5th year, Galoshans Festival returns, bringing performance, creativity and community spirit to the streets of Greenock with a vibrant programme of events from 25th October – 1st November 2019.
This local celebration of the Inverclyde tradition of going Galoshans for Hallowe'en fuses creativity with community and all things, scary and spooky. The festival programme includes visual arts exhibitions and audio visual installations, street performance, creative workshops, live music, theatre and activities for children and young people across venues in Greenock.
Greenock based, socially engaged arts charity RIG Arts are leading the delivery of the festival with a consortium of partners, having secured funding from Creative Scotland, the Heritage Lottery Fund and EventScotland.
Galoshans Festival will launch on Friday 25th October with the opening of contemporary art exhibition: Innovation & Light at the Tobacco Warehouse, accompanied by live music from James Grant and Lola in Slacks.
Inverclyde Culture Day will take place on Saturday 26th as local community groups showcase their creativity and the streets come alive with performance. This year grand Galoshans Parade and Street Party take place on Sunday 27th October from 5.30pm, with live music by James Grant at Wellpark Mid Kirk Church from 7pm and plenty of surprises.
Visitors should keep their eyes peeled for artworks popping up throughout Greenock town centre and special artist commissions as Galoshans Festival celebrates the bicentenary of local son and world renowned engineer James Watt, with themes of innovation and light.
Beacon Arts Centre play host to 3 spellbinding productions:
Cryptic bring Sonica Festival to Greenock for the first time in conjunction with the Scottish Alternative Music Awards for a night of experimental music present the grand finale spectacle of exciting experimental audio-visual performance at Rig Arts Tobacco Factory on 1st November.
The closing event sees Glasgow based Cryptic and the Scottish Alternative Music Awards Tobacco Warehouse Takeover on 1st November 2019.
Visit www.GaloshansFestival.com to download the brochure for the full programme of events.
Date/Time: 25/10/2019 - 01/11/2019 at 00:00
Page last updated: 3 October 2019