Home Energy Efficiency Services
Inverclyde Council works in partnership with the following services:
Home Energy Scotland (HES)
Home Energy Scotland (HES) is funded by the Scottish Government and delivered by Energy Saving Trust. HES telephone advisors can answer your questions about heating and insulating your home, saving energy and cutting costs.
What is offered and who is eligible?
Energy advice. Whether you are working, retired or receiving benefits HES can provide you with free energy advice. They can also help you by carrying out a free, personalised home energy check. This short survey will check how energy efficient your home is and suggest practical changes and improvements. It can help you save money by reducing the amount of energy you use in your home. And it can be done over the phone.

More money in your pocket. Many people miss out on money they are entitled to from benefits and tax credits – just because they don't know it's there. HES can help find out if this applies to you. Some people discover they can get as much as £1,500 extra per year. Energy suppliers also offer some people discounted energy rates. We can advise about any discounts that may be available to help you pay less for the energy you use.

Energy efficiency measures. Depending on your circumstances, you could get help from the Scottish Government or energy companies to make your home warmer and cheaper to heat. For example, you could qualify for a new central heating system, a new boiler or loft and cavity wall insulation.
Energy Suppliers fund measures under their Affordable Warmth Schemes, the Scottish Government funds measures under the Energy Assistance Scheme and support may also be available from the Scottish Government and Local Authorities through Area Based Schemes. HES can help by letting you know what support you are eligible for and by helping you to access it.
For full details of every programme currently available from all suppliers, please contact Home Energy Scotland on the details on this page.
Inverclyde Home Energy Advice Team (i.HEAT)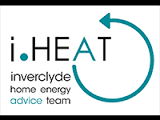 i.HEAT offer a free and impartial home visit service and will give advice on all aspects of home energy use, including how to reduce your energy bills.
i.HEAT can also help you with complex problems you may have with your energy suppliers.
Contact i.HEAT on the details on this page.
HOME ENERGY EFFICIENCY PROGRAMMES AREA BASED SCHEMES (HEEPS ABS)
The Scottish Government is committed to tackling fuel poverty and to improving the energy efficiency of housing in the private sector by providing HEEPS:ABS funding to owners via local authorities. The central aim of this funding stream is to target specific areas where fuel poverty is known to exist and where homes are uninsulated or require additional insulation to bring them up to 21st Century standards. Local authorities have to set out a strategy for identifying target areas and for ensuring that areas in fuel poverty are improved first before turning attention to other areas that could also benefit from energy efficiency measures. The well-established and well-respected Scottish Index of Multiple Deprivation (SIMD) Scores for the whole of Scotland are used as the benchmark for determining which areas should be tackled first under HEEPS:ABS programmes.
Local authorities must ensure that they maximise the use of their HEEPS: ABS funding allocation and secure the best Energy Companies Obligation (ECO) funding leverage possible. The Council is committed to tackling fuel poverty and is adopting the Flexible ECO Eligibility Policy to allow Flexible ECO Affordable Warmth funding for energy efficiency works to be made available to homeowners in Inverclyde with the highest level of need. Local Authorities are also encouraged to work on collaborative programmes in 'Area Based Schemes' (ABS) with local Registered Social Landlord's.
For information on Inverclyde Councils' current and future HEEPS programmes please contact the Customer Service Centre to speak to the Senior Grants Officer.