More information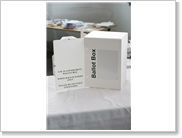 Inverclyde Council administers all local, Scottish, UK and European elections in Inverclyde. There are four standard types of elections:
Local Government
Scottish Parliamentary
UK Parliamentary; and
European Parliamentary
In addition to these, By-Elections may be held if a Councillor, MSP, MP or MEP dies or resigns. Special Elections such as referendums are also held occasionally.
The Chief Executive of the Inverclyde Council is the Returning Officer for all of these elections, with the exception of European Elections which are the responsibility of the Regional Returning Officer (currently the Chief Executive of Edinburgh City Council). In the case of a referendum the Returning Officer is called the Counting Officer.
These pages are designed to give you some useful information on elections, such as who is eligible to vote, the different ways you can cast your vote, information on any forthcoming elections and results of past elections. Please use the links on this page to find out more information.
You can also contact the Election Team on the details shown on this page for further information.