Inverclyde to Play Its Part in Refugee Crisis
Monday 12 October 2015
Inverclyde Council has unanimously agreed to take part in relocating families fleeing the conflict in Syria.
Up to 10 families – around 60 people – will be relocated to the area following a request from the UK Government to help with the current refugee crisis.
Inverclyde's Provost Robert Moran said: "There can be few people who haven't been profoundly moved by the plight of the refugees fleeing the civil war in their homeland. These are people who have left everything behind and we have a moral responsibility to help. We have been a successful part of the Afghan Resettlement Scheme welcoming six families since the start of the year to Inverclyde. I am sure the Syrians will be offered the same warm welcome and hand of friendship."
Mohammed Dawari, his wife and two young daughters were among the first to arrive in Inverclyde from Afghanistan where he had worked as an interpreter with the British Army. They are expecting a baby boy in February.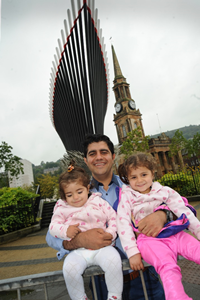 He said: "It is a small area. People are good and friendly and ask us about how we got here. Inverclyde Council have done a lot for us. When I have called for help it has been there. It has been difficult to engage but some people did approach us asking us to explain how we came here. The community has been good."
Refugees will be brought to the UK from camps in the Middle East as part of a commitment to grant immigration status to 20,000 people over the next five years. The Scottish Government has confirmed 2,000 of them will be welcomed in Scotland.
They will be granted immigration status to allow them full access to welfare benefits, health services, housing and education.
Provost Moran added: "We already have the expertise and framework in place thanks to our work with the Afghan families. Hopefully Inverclyde will be welcoming the first of our Syrian families in the next four to six weeks.
Page last updated: 12 October 2015