Greenock blitz
Monday 9 May 2016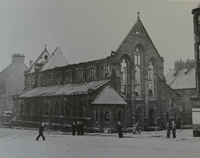 The commemoration service was held in the church which was rebuilt after the original St Laurence's was bombed 75 years ago on Saturday 7 May 2016 at 11am.
The service marked 75 years since around 350 German bombers bombed the town on the nights of 6 and 7 May 1941.
The ecumenical service was led by Father Coleman with the powerful Euology read by Rev Owen Derrick of Lyle Kirk.
HM The Queen's representative, Mr Guy Clark, Lord Lieutenant of Renfrewshire, delivered an address outlining the events of 75 years ago when nearly 300 people died and over 1,000 were injured.
Pupils from Inverclyde's high schools then led a moving roll of honour by reading the names of all those who died on the nights of 6 and 7 May 1941.
Inverclyde Council Provost Robert Moran, said: "The service marked 75 years since the events where the civilian population was the target of heavy and sustained bombardment. The young people from our schools delivered a powerful and moving reminder of the scale of the devastation. To hear the names of so many people, so many entire families and so many young children was an opportunity to remember the scale of what occurred over those two dreadful nights 75 years ago. I'd like to thank Father Coleman, Rev Derrick, Guy Clark, George McLeary and the young people from our schools for delivering a fitting tribute to the memory of those affected 75 years ago."
A wreath laying ceremony was held at the Greenock Cemetery Blitz Memorial at South Street. The memorial includes the inscription: "Dedicated to the everlasting memory of the citizens of Greenock who died as a result of the air raids 1940-1941"
Everyone attending the service of commemoration at St Laurence's Church received a copy of a 16 page booklet titled Commemoration of the Blitz produced as part of the heritage Inverclyde project and produced through the Dutch Gable heritage team with assistance from local volunteers and pupils from St Columba's High School.
Page last updated: 9 May 2016