Museum to Close for £2 million Refurbishment
Inverclyde Council's historic McLean Museum and Watt Library complex in Greenock is to undergo a £2 million refurbishment.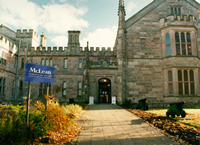 The buildings will be closed from December 2016 to allow emergency repairs to the parapets and towers, window replacement and roof repairs and treatment for wet rot.
The Council's Education & Communities Committee has also approved plans to move high-value and particularly fragile exhibits and artefacts to safe storage while the work is carried out.
Convener Councillor Terry Loughran said: "Where possible as many archives, books and objects will be left on site in areas unaffected by the building work. Comprehensive measures to protect the large and heavy pieces that cannot be moved will of course be taken. We are anticipating the repairs will take between eighteen months and two years to complete and we are of course looking at options to provide some of the museum and library's services elsewhere during the closure."
The Council is investing £1.8 million towards the refurbishment work alongside a £287,000 grant from Historic Environment Scotland.
Vice Convener Councillor Martin Brennan said: "This is essential work that really must be carried out to preserve the very fabric of this historic building. Although the Museum and Art Gallery was refurbished in 1990, the Watt Library has never had any refurbishment The collections of the Watt Library and McLean Museum are of national and international significance and some would argue their value both monetary and historically surpasses that of the building. It is therefore essential that we conserve and safeguard these important collections by ensuring the Watt Complex is safe and water-tight."
A range of heritage, museum and library resources are available online.
McLean Museum Collection online: www.mcleanmuseum.pastperfectonline.com
Inverclyde Libraries: www.inverclyde.gov.uk/libraries