Morton Chairman to be Highland Games Chieftain
Thursday 6 April 2017
The Chieftain for the Gourock Highland Games has been named as Greenock Morton Chairman Douglas Rae OBE.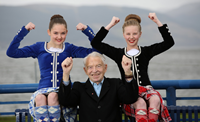 The businessman – who is also chairman of the Golden Casket confectionary corporation – will preside over the 61st annual games at their new permanent home at Battery Park .
Douglas Rae OBE said: "I am absolutely thrilled and extremely honoured to have been asked. I am really looking forward to the event and to spending the day with everyone taking part. Hopefully the sun will be shining."
Gourock Highland Games - on Sunday 14 May - hold a unique position in Scotland marking the start of the Scottish Highland Games season and this year come just a week before the first major pipe band championships.
Alongside the pipe band competitions the event includes traditional highland games, heavyweight events, the West of Scotland Highland Dance Championships and mini highland games involving local school children.
The event will also host the first 'come and try sports' event with a range of free sports activities.
Fairground rides, children's activities, vintage fire engines and a wide range of food and community stalls add to the entertainment for people of all ages.
The Games open to the public at 12.00pm and culminate with the Chieftain's March Past .
Gourock Highland Games is organised by Inverclyde Council and supported by River Clyde Homes, Inverclyde Active Schools, Gourock Community Sports Hub and Gourock festival of sports.
The piping competitions at Gourock Highland Games are run under the auspices of the Royal Scottish Pipe Band Association (RSPBA).
For details of sponsorship packages at Gourock Highland Games, email events@inverclyde.gov.uk
Page last updated: 7 April 2017