One Pill One Life
Monday 3 April 2017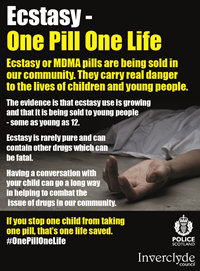 Parents and carers across Inverclyde are being urged to speak to young people about the dangers of ecstacy.
For, Inverclyde Council and Police Scotland are joining forces with a hard hitting campaign to spread the message that it only takes one pill to take a life.
Inverclyde Council's Director of Education, Wilma Bain, said: "Young people across Scotland are exposed to drugs in the community and the evidence is that the age is getting younger.
"Ecstacy or MDMA is rarely pure and research carried out by our community learning and development (CLD) service is that 65% of young people between the ages of 14 and 17 know of someone who has or does take ecstacy.
"This should be a major concern to parents and carers. That's why we are joining forces with Police Scotland, our Health and Social Care Partnership and the Inverclyde alcohol and drugs partnership to raise awareness.
"We are using the hashtag #onepillonelife to spread the word that it only takes one pill to take the life of a young person. If, by talking to a young person, we can stop one pill from being taken, that's one life saved."
Police Scotland Chief Inspector Elliot Brown said: "The reported abuse of Ecstasy (MDMA) by young people within our community is extremely concerning, this drug has been responsible for many deaths over the years and continues to present significant risk to life. We are fully committed to the #onepillonelife campaign to ensure our young people are safe. I urge anyone with knowledge of where these pills are coming from to contact Police Scotland on 101, or report anonymously through Crimestoppers or Fearless. It is vital that our young people learn of the dangers of taking Ecstasy and but all other controlled substances. We are working with Education and Community Learning and Development within schools across the area to deliver this vital message."
Parents and carers are being urged to tap into the local and national resources to find out more about drugs, their effects and dangers.
The Inverclyde alcohol and drugs partnership website - www.inverclydeadp.org.uk has been developed with partners and involving young people to provide useful advice and guidance on issues around drugs.
Nationally the 'talk to Frank' website is a very useful source of information on drugs, their effects and their dangers. Visit www.talktofrank.com
A joint letter has been issued to parents ahead of the Easter school holidays to highlight the danger posed by ecstasy and a social media campaign developed to raise awareness of the issue.
Page last updated: 3 April 2017