Historic Outdoor Pool's Season Extended
Thursday 10 August 2017
Inverclyde Council has agreed to extend the opening of Gourock's iconic outdoor swimming pool until the end of September for the first time.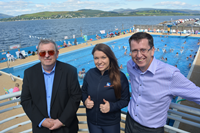 The Policy & Resources Committee has approved a proposal to meet the cost of up to £15,000 for a one-off trial.
Vice Convener Councillor Jim Clocherty said: "The pool is the jewel in the crown of Gourock and an attraction that brings people to Inverclyde from across Scotland and further afield.
"It lies at the heart of a regenerated town centre and plays a crucial role in the wider tourism and leisure economy of the area. I am delighted we have been able to find the funding to extend the season and to give more people the opportunity of enjoying everything the pool has to offer."
A 400 signature petition was raised requesting the pool should remain open throughout September instead of closing on Monday 4 September as planned.
Inverclyde Leisure – who run the pool on the Council's behalf – were presented with the petition but were unable to agree to the request because of the cost involved but Inverclyde Council will now fund the opening of the pool for the extra weeks on a one-off trial basis.
Council Sports Champion Councillor Ronnie Ahlfeld said: "This funding will only be available as a one-off but it will give us an idea of what the real demand is for extending the opening of the pool on a regular basis. This decision will be widely and warmly welcomed by all who use the pool."
Gourock Pool is one of only two open air heated seawater swimming pools in the UK and has been a popular attraction for locals, day trippers and tourists since it opened in 1909. Water is taken from the River Clyde, filtered, cleaned and maintained at a minimum temperature of 84F (29C).
The pool underwent a £1.8 million refurbishment in 2012.
The exact hours of operation will be agreed following discussion with Inverclyde Leisure.
Photograph: Councillor Ahlfeld, Lauren O'Donnell, Pool Manager and Councillor Clocherty
Page last updated: 10 August 2017