Record Year for Exam Results in Inverclyde
Tuesday 8 August 2017
The number of pupils gaining three or five Higher awards in S5 at Inverclyde Council's schools is the highest ever.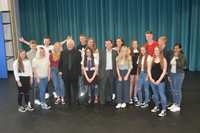 In S5 more than a third - 33.5% - achieved three passes and the number gaining five rose to 13.8%.
Results for S6 pupils show another record year with almost two out of three – 64.5% - Inverclyde pupils leaving school with at least one Higher qualification. That figure has risen year-on-year for over 10 years.
Education Convener Councillor Jim Clocherty said: "These results are reward for a lot of hard work by pupils, their parents and carers and staff over several years.
"Today marks an important milestone in the lives of our young people and there will also be a collective sigh of relief for many as the waiting is finally over.
"The headline figures make very pleasant reading and I would like to congratulate everyone who has achieved their exam goals."
The number of S4 pupils achieving five or more National 5 passes is at a 10 year high at 38.2%
Inverclyde schools have also achieved their best ever performance at Higher with 43.4% of S6 pupils leaving school with three awards and coming close to matching last year's record (28.9%) with 28.7% leaving school with five awards.
Councillor Clocherty added: "I would like to take this opportunity to thank every member of staff who play such a key role in the education of our young people. It is through their dedication that we are able to achieve these kind of results and to give our young people the opportunity to go on and lead rewarding and successful lives.
"Education has always been the priority of the Council. Through investment in our fabulous school estate and the professionalism and commitment of staff we are determined to give every single child and young person the best possible start we can.
"I would also like to thank parents and carers for their continued support and for the significant and vital role they play in their children's education.
"For the young people who may have been disappointed by their results they should remember that every effort will be made to support them to achieve the qualifications they are looking for.
"We have a long and successful track record for helping people into jobs, further education and training and we will use all of that experience to ensure no one misses out."
Young People's Champion Councillor Natasha Murphy said: "These are excellent results and show the dedication, commitment and sheer hard work our young people are investing in their futures."
Picture:
S4 Pupils from Inverclyde Council's Secondary Schools who achieved six 'A' grades at National 5 with Provost Brennan and Councillor Clocherty.
Summary:
| | | | |
| --- | --- | --- | --- |
| | Award | 2017 | 2016 |
| S5 | 3 Highers | 33.5% | 30.5% |
| S5 | 5 Highers | 13.8% | 13% |
| By the end of S6 | 1 Higher | 64.5% | 58.5% |
| By the end of S6 | 3 Highers | 43.4% | 42.8% |
| By the end of S6 | 5 Highers | 28.7% | 28.9% |
| S6 | 1 or more Advanced Higher | 18.6% | 18.1% |
Page last updated: 8 August 2017