Cables Cause Delay to Port Glasgow Project
Friday 1 December 2017
The completion of a key Port Glasgow project has been delayed after contractors discovered power cables closer to the surface than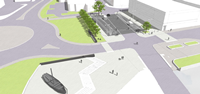 expected.
A new spur road opened last month off the A8 forming a new junction with Shore Street and Princes Street allowing direct access to the town centre.
However, a temporary closure to a short stretch of Shore Street directly in front of the Town Hall is to remain closed.
Environment & Regeneration Convener Councillor Michael McCormick said: "We knew there were cables there but we had not anticipated they would be so shallow. Trial digging was undertaken at an early stage to confirm depths but once the whole area was opened up it was clear the cables rose sharply further down the road. The design team and contractor are working with the utility provider to develop a workable solution to this problem but unfortunately this will take some time and we cannot re-open the road until it has been completed safely."
Jim Stevenson from the contractor RJ McLeod said: "It is unlikely Shore St will be open before Christmas – I think realistically we are now looking at handover early in the New Year. We would like to thank local businesses and residents for their patience so far and ask for their continued support to allow us to complete this essential work."
The Port Glasgow Lower Town Quarter project received a Regeneration Capital Grant award from the Scottish Government and COSLA in 2016.
The new hard-landscaped civic space will extend over Shore Street from the front of the Town Hall towards the grass lawn on the site of the former car park.
A second phase of the works will also include the demolition of redundant buildings at the rear of the Town Hall to create a new civic square.
The project is being delivered on behalf of the Council by the urban regeneration company Riverside Inverclyde. Chief Executive Fiona Maguire said: "This protection work has to be carried out before we can continue with the hard landscaping on Shore Street. It is unfortunate but absolutely necessary for the temporary road closure to remain in place to allow us to complete the project providing better connections into the town centre."
A Port Glasgow Town Centre Master Plan was developed in 2014 after extensive consultation with local residents and businesses identified the development of a new gateway into the town centre as a priority for investment.
Councillor McCormick added: "We understand there has been some inconvenience caused by the continued closure of Shore Street but the benefits will far outweigh any short-term disruption once the road is re-opened. We are confident this project will deliver on its promise to significantly boost existing businesses and attract inward investment into the area."
In addition to the new access road from the A8 the Port Glasgow Regeneration Strategy and Master Plan recommends environmental improvements to the town centre; removal of redundant buildings; the restoration of empty shop units to provide 'fit for purpose' retail space and new office and commercial accommodation.
Page last updated: 1 December 2017