Celebrating 40 years of journalism
Friday 22 December 2017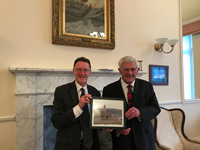 Provost Martin Brennan presented Eric, on behalf of the Council, with a framed picture depicting Greenock's historic municipal buildings.
He said: "Eric has been a feature at the Greenock Telegraph for as long as I can remember. Over his forty years, he has spent a great deal of that time reporting on council issues from within the chamber, so it felt appropriate that we give Eric a reminder of, hopefully, some happy times over his career.
"Eric has seen the good times and the sad times of many people, families and organisations over his time at the telegraph. He has reported faithfully and with characteristic good humour. While it is sad that Eric will no longer be in the reporters chairs in the chamber any more, he retires with the very best wishes of the council, our councillors and employees."
Inverclyde Council Leader, Councillor Stephen McCabe, added: "Eric leaving the telegraph is the end of an era and I know he leaves with the warm wishes of the many people who have known him and worked with him over the years.
"Local journalism can often go underappreciated, but it is a very good opportunity, looking back at Eric's career, to remind ourselves that democracy needs to be seen to be done in public. It is people like Eric who deliver a key part of that role on our behalf. Whether it is reporting the news of the day, campaigning for change or providing a platform for challenge and public debate, the Greenock Telegraph and journalists like Eric are there for the people of Greenock and the wider Inverclyde community.
"I wish Eric a long, happy and a very fit retirement to bag many more marathons in the years to come."
Page last updated: 21 December 2017