Fake Dolls No Laughing Matter
Wednesday 6 December 2017
Inverclyde Council's Trading Standards team is warning shoppers to avoid poor quality and potentially dangerous copies of a must-have Christmas toy.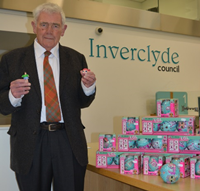 L.O.L. Surprise Dolls have become a top seller around the world with dozens of different characters for children to collect.
Education & Communities Vice Convener Councillor Martin Brennan said: "It is no surprise – and no pun intended – that counterfeiters are trying to cash-in on one of the most popular Christmas toys of 2017. Fake dolls have started appearing online but also in some shops in Inverclyde and we are really keen to get the message out to people to avoid them. They are cheap, poor quality and potentially dangerous."
Trading standards were alerted when a four year old girl realised a doll bought from an Inverclyde retailer was not the genuine product. Tests on the counterfeit toy also revealed it fails to comply with safety regulations.
Stock has been removed with the full co-operation of the retailer and trading standards are carrying out further inquiries.
Councillor Brennan added: "Online shopping sites are awash with fake products so I would urge buyers to avoid children being disappointed or possibly put in danger from poor quality imitations. These toys normally retail at around £10 so if they are being offered at a bargain-price that is a pretty good indication that all may not be as it seems."
The product should clearly say MGA Entertainment, Inc or MGA on the outside packaging.
Legitimate product is called L.O.L SURPRISE! not L.Q.L or any other name.
Only purchase from trusted retailers and websites.
Page last updated: 6 December 2017