Forty Years Keeping Inverclyde Schoolchildren Safe
Monday 18 December 2017
Inverclyde Council's longest-serving school crossing patroller has been celebrating four decades of service.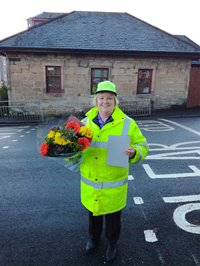 Ellen McNeill has been seeing Inverclyde's primary school children safely across the road since 1977. To mark the occasion she was presented with a card and flowers by colleagues.
She said: "Sometimes I get a wee pleasant reminder of just how long I've been doing this job when parents come up with their kids and say "you used to cross me too." "It's a great wee job, it gets me up and out every day, keeps me active and keeps me in contact with people."
William Rice was one of the first pupils safely crossed by Ellen at her original post at Ladyburn Primary School. He is now Team Leader for Inverclyde Council's Community Safety & Resilience service which co-ordinates the crossing patrollers.
He said: "Not only is Ellen one of our longest serving patrollers, she's also one of our brightest and cheeriest and is loved by all the kids."
A total of 35 school crossing patrollers turn out every day across Inverclyde to make sure children arrive safely for class and also pass on vital road safety skills to keep them safe when not in school.
Communities Vice Convener Councillor Natasha Murphy said: "Inverclyde has a very good pedestrian road safety record and this is in no small part testament to the dedicated work of our Road Safety team and the School Crossing Patrollers who are part of that team."
Anyone interested in becoming a school crossing patroller should contact the Community Safety & Resilience Team: Phone 01475 714298; e-mail: community.safety@inverclyde.gov.uk or in writing to Inverclyde Council, The James Watt Building, 105 Dalrymple Street, GREENOCK PA15 1HU
More details can also be found by visiting the link on this page.
Page last updated: 18 December 2017