Tough Choices Ahead as Inverclyde Gets to Grips with Budget Settlement
Friday 15 December 2017
The Leader of Inverclyde Council is warning difficult decisions will still have to be made despite a smaller cut in its Scottish Government funding than expected.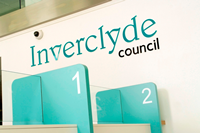 The Revenue grant has been reduced by £2.3million on a like-for-like basis compared to the Council's budget strategy estimate of £4.6million.
But Councillor Stephen McCabe said there is little to cheer about: "While the proposed settlement is an improvement on what we were expecting it is still less money than we had last year. The Council will have to fund the pay award along with other inflationary pressures. Combined with the ever-increasing demand for services from a tighter budget we will have no choice but to make cuts."
Inverclyde Council is still facing a funding gap of over £10million for the period 2018-2020.
Council tax increases have been capped at 3% and the previous conditions around maintaining pupil teacher ratios and probationer teachers remain.
There is extra money for the expansion of early years provision to 1140 hours although Inverclyde's share of the national £243million funding has not yet been agreed.
Councillor McCabe added: "We have to confirm by the middle of January whether the Council intends to accept the settlement but to quote the Cabinet Secretary's own words – any local authority that does not will receive a revised 'and inevitably less favourable offer'.
"Either way the challenges to balance the Inverclyde budget remain and our public consultation on the options available to us will proceed as planned in the New Year. It will not be easy nor painless but we are committed to delivering the high standard of services our communities expect and deserve."
A report on the implications of the funding settlement will be finalised over the next few days ahead of a special meeting of Inverclyde Council on Thursday 21 December 2017.
Page last updated: 15 December 2017