Inverclyde Council: best value assurance report
Thursday 27 July 2017
Inverclyde Council met to consider the findings of the Accounts Commission on Thursday 29 June 2017.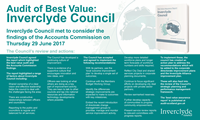 The Council's review and actions:
Inverclyde Council agreed the report which highlighted the best value audit and the Accounts Commission findings.
The report highlighted a range of factors about Inverclyde Council including:
Shared ownership of a clear vision and effective leadership helps the council to deal with the challenges facing the area;
There are constructive relationships between officers and councillors;
Reporting to the public and councillors is regular and balanced for all services;
The Council has developed a continuing culture of improvement;
There is evidence of a supportive culture that encourages innovation and new ideas, and
Officers see looking at what others are doing as a key part of improvement activity. They are keen to talk to other councils and tap into national resources and information technology developments where possible.
The Council has accepted and agreed to implement the following recommendations:
With its partners, use the 'local outcome improvement plan' to develop a single set of outcomes;
Continue with the Members Budget Working Group;
Identify the differences strategic improvements are expected to make to outcomes with key milestones;
Embed the recent introduction of directorate change management groups to prioritise, manage and monitor service improvement activity.
Develop more detailed workforce plans and longer term forecasts of workforce numbers and skills required;
Reflect City Deal and shared services projects in corporate planning documents;
Continue to focus significant efforts on developing city deal projects with private sector partners;
Review earmarked reserves;
Further develop capacity of communities to progress community empowerment;
Present service review reports to relevant committees with progress reports.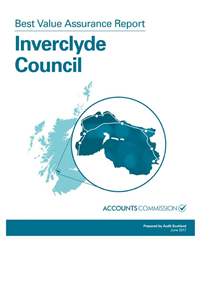 To implement these, the council has created an action plan to address the recommendations which will be added to the corporate directorate improvement plans and the Inverclyde Alliance improvement plan.
These will also feed into the review of the Council's strategic planning and performance management framework.
Page last updated: 28 July 2017