Late Recycling Centre Opening to allow Crane Demolition
Tuesday 11 July 2017
Inverclyde Council's recycling centre at Pottery Street will open later than usual on the day three giant Clydeside cranes are to be demolished.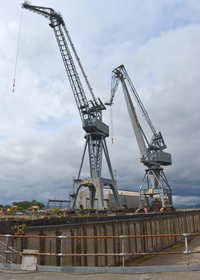 Sections of the A8 dual carriageway and Scott Way near Inchgreen will be closed to traffic between 6am and 10am on Sunday 16 July.
The three cranes at Inchgreen dry-dock are due to be brought down by controlled explosion.
Inverclyde Council's Pottery Street recycling centre – which is just down the road from Inchgreen – will remain closed until 10.30am when the demolition work is expected to be completed.
Environment & Regeneration Convener Councillor Michael McCormick said: "It will be sad to see the cranes disappear from the Inverclyde skyline where they have become a familiar and iconic landmark. Ultimately on the day public safety is our top priority and it important that we play our part in ensuring the area is kept clear and the general public safe during the course of the demolition works."
Pottery Street, Port Glasgow Road, Scott Way, Greenock– Road closures
Limits – Pottery Street from junction of A8 Port Glasgow Road to yard gate
Port Glasgow Road from junction Scott Way to Inchgreen Street
Scott Way from junction with Crunes Way to junction with Chalmers Lane

Start – Sunday 16 July 2017 – 0600 hrs
End – Sunday 16 July 2017 – 1000 hrs
Diversion – East bound Diversion – Brown Street, Balfour Street, Glen Avenue, Lilybank Road, Birkmyre Avenue, Farquhar Road, Lansbury Street, Gibshill Road
West bound Diversion – Gibshill Road, Lansbury Street, Laburnum Street, Thomas Muir Street, Lilybank Road, Glen Avenue, Balfour Street, Brown Street
Page last updated: 11 July 2017