Consumers Can Have Confidence in Food Safety in Inverclyde
Monday 12 June 2017
Inverclyde Council has 'robust and well-managed controls over food safety', according to an official report.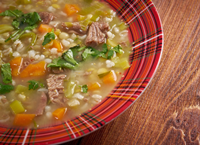 The Council became one of the first local authorities in Scotland to be audited under a revised system by Food Standards Scotland.
The main aim of the audit is to maintain and improve consumer protection and confidence by ensuring an effective food law enforcement service.
The revised system uses a colour-coded grade to assess if measures taken by local authorities are sufficient to protect public health.
Communities Convener Councillor Jim Clocherty said: "I am delighted that Food Standards Scotland has given Inverclyde Council a green 'Substantial Assurance' outcome, which means our controls are robust and well-managed. It is vitally important that consumers can have confidence when visiting nearly 700 premises across Inverclyde and have no reservations about the standards of food hygiene. I would like to congratulate everyone involved as this report recognises their hard-work, professionalism and diligence in keeping consumers safe."
The audit found that in 2016 every business listed on the food premises database had been rated and over 600 inspections had been carried out by staff.
As well as enforcing food safety and standards legislation the council also offers advice and guidance to food businesses and customers.
Food Standards Scotland's Head of Audit, Marion McArthur, said: "We are delighted that Inverclyde Council has been assigned a green 'Substantial Assurance' outcome for this audit.
"At the end of last year, we added colour-coded assurance outcome categories to the audit process in Scotland to make our assessment easier to interpret.
We look forward to working with more local authorities in Scotland under our revised system to protect public health."
The full report can be found by following the link on this page.
Page last updated: 12 June 2017