Planning Permission Granted for Kilmacolm Park Drainage System
Monday 19 June 2017
A £400,000 Inverclyde Council scheme to tackle drainage issues at Birkmyre Park in Kilmacolm has been granted planning permission.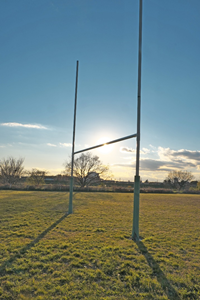 Environment & Regeneration Convener Councillor Michael McCormick said: "The rugby pitches are an important and well-used asset in the village and I am delighted we are now in a position to press ahead. For many years training and matches have been disrupted by excess water but once this innovative scheme has been completed we should see a significant improvement."
Before any work can get underway contractors have been told to check for badgers, otters and water voles and to ensure measures are taken to protect trees around the site.
Both rugby pitches will have drainage pipes installed under the surface carrying excess water to the nearest water course, the Gryfe Water.
Excess soil water will be carried away using perforated land drainage pipes which are carefully sized to allow very small particles to pass through the slots to be flushed out by the flow of water.
A secondary drainage system – slit trench drainage - will be installed through the use of narrow sand-filled trenches spaced one to two metres apart.
A water attenuation tank will also be installed to slowly release drainage water in a controlled discharge before it is allowed to run into the Gryfe Water to minimise the risk of flooding of the water course during heavy rain.
Birkmyre Rugby Club is to use a grass pitch at Inverclyde Council's Parklea facility in Port Glasgow for matches while the work goes on.
St Columba's School in Kilmacolm whose pupils regularly use the pitches is contributing £50,000 towards the project.
Page last updated: 19 June 2017