Bulb Show is Among the Best Ever
Wednesday 15 March 2017
Competitors from across Inverclyde have hailed the latest Port Glasgow annual Spring Bulb Show a resounding success.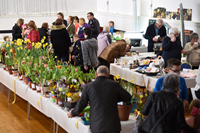 Entrants of all ages competed in dozens of categories including Best Pot Plant in Show and Best Spray of Spring Flowers.
Five year old Zara Sophia Bonnar was the youngest winner with her decorated flower bowls, taking the top prize in that category for the second year running.
Inverclyde's schools were well represented including entries from Gourock Primary and St Ninian's Primary for the first time.
St Francis' Primary took two trophies with St John's Primary coming a close second in three categories.
There was success for the 27th Greenock Girl Guides who won trophies for their Handicrafts and Collages while Wellpark Nursery won the Show Stopper Baking category with their edible Wishing Well.
There were floral displays from Parklea Branching Out, as well as paintings and handicrafts from local children and the May Hughes dancers performed throughout the event.
Page last updated: 15 March 2017