Funding Approved for New Approach to Autism
Friday 24 March 2017
Delivering better services for children with autism as they grow into adulthood and beyond has been identified as a priority in Inverclyde.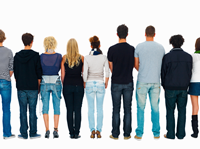 Inverclyde Council's Policy & Resources Committee has approved £150,000 for the first two years funding for the Autism Implementation Group.
It has been set up to deliver the Inverclyde Autism Strategy which aims to improve the lives of local people with autism.
The strategy was developed by Inverclyde Health & Social Care Partnership working with families and individuals affected by autism alongside staff working in the public and voluntary sectors.
The ten year plan aims to develop positive and supportive networks, a co-ordinated autism training plan and to deliver access to assessment, diagnosis and support.
The Autism Implementation Group's members represent the adult and children's services within the HSCP, education, the Council, voluntary groups, the independent housing sector as well as service users and carers.
Autism is a lifelong developmental disability that affects how a person communicates with, and relates to, other people. It also affects how they make sense of the world around them. While all people with autism share certain difficulties their condition will affect them in different ways. Some people with autism are able to live relatively independent lives but others may have accompanying learning disabilities and need a lifetime of specialist support.
Page last updated: 24 March 2017