New Depot Open for Business
Friday 10 March 2017
The latest phase in the £10 million development of Inverclyde Council's state-of-the-art Pottery Street depot in Greenock has been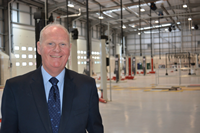 completed.
Around 200 staff involved in frontline service delivery are now settling in to their new offices while the Council's vehicle fleet is being serviced and maintained in a purpose-built garage.
As part of its Asset Management Plan the Council decided to accommodate staff, vehicles and equipment in one location at Pottery Street.
Environment & Regeneration Convener Councillor Michael McCormick said: "It makes sense to bring frontline services to one central location. It means they can be better co-ordinated and react quicker when needed. It also allows us to make more efficient use of facilities and resources and to dispose of surplus properties which clearly has a financial benefit to the Council. These services are very much at the sharp-edge of what the Council delivers to our communities on a daily basis which is why we are making such a significant investment to ensure they run as smoothly and efficiently as possible."
The Pottery Street depot incorporates a new recycling centre, a salt barn and delivers all of the Council's vehicle fleet maintenance in a new state-of-the-art garage which complies with VOSA standards. Roads professional and technical employees are all housed under the one roof. The Council's refuse collection, fleet maintenance staff and transport services also operate out of the new Vehicle Maintenance Facility (VMF). All employees have access to changing facilities, drying areas and a new canteen.
Further development of the site includes fuel storage and distribution facilities, a vehicle wash facility, a dewatering facility for gully waste etc., and refurbishment of the former vehicle depot to house both Grounds Maintenance and Roads operational employees.
Page last updated: 10 March 2017