Praise for Primary after Inspection
Thursday 4 May 2017
The positive behaviour of pupils and effective leadership at an Inverclyde Council primary school has been recognised in an official report by Education Scotland.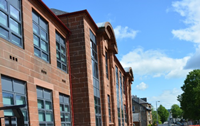 Inspectors visited Ardgowan Primary in Greenock over two days and talked to parents/carers and children and worked closely with the head teacher and staff.
Their report highlights the well behaved, polite pupils who enjoy school and talk eagerly about their tasks and the effective leadership of the head and depute head.
It also praises the school team for effectively identifying the strengths of the school and understanding the areas to be improved.
Head teacher Alison McLellan said: "I am absolutely delighted that the commitment and enthusiasm of the whole staff team was recognised in the inspection and that our pupils were described as ' well behaved and polite'. We work extremely hard to promote positive relationships in the whole school community - lovely to see that it is paying off."
The report also recognised that across the school children enjoy a range of opportunities to develop skills in writing. By the end of their last year at ardgowan Primary they produce writing of high quality and show potential to reach higher levels.
Alison McLellan added: "Developing writing across the school was part of our Strategic Improvement Plan this year , to have this highlighted as a strength shows the positive impact we are making on the children.
The overall inspection was a most positive experience for all in Ardgowan Primary. We are confident that we are taking our pupils' education forward in the right direction and will continue to work on areas for improvement."
Education Scotland's evaluations for Ardgowan Primary School
Self-evaluation for self-improvement very good
Raising attainment and achievement good
Page last updated: 4 May 2017