Returning Officer Ready to Repeat Count Success
Tuesday 9 May 2017
Inverclyde's Returning Officer says he is confident the success of the local government election poll and count will be repeated at the general election.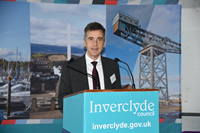 Aubrey Fawcett – who is Inverclyde Council's Chief Executive – said: "I would like to offer my sincere thanks to everyone involved for their hard work and professionalism, both in the run up to the election, during the poll and at the count itself.
"The lessons learned and teamwork from previous elections stood us in good stead and everyone played their part and conducted themselves superbly.
"I would also like to thank Inverclyde Leisure Trust for providing us with first class facilities and for the support provided by Police Scotland throughout the day at Polling Places and at the Counting Centre."
Nearly 30,000 ballot papers were validated and counted as 22 councillors were elected to represent seven wards on Inverclyde Council by the Single Transferable Vote (STV) system.
Attention now turns to preparations for the General Election to be held on Thursday 8 June when Inverclyde will once again go to the polls to elect its UK Member of Parliament.
Aubrey Fawcett said: "The announcement of the General Election came as something of a surprise but we are well placed and well prepared to ensure all goes smoothly. Although we will be running a simple majority ballot to decide our Member of Parliament the process is a meticulous one to ensure every single vote is counted. I am sure my election team will deliver what is expected and the people of Inverclyde can vote in confidence."
Page last updated: 9 May 2017