New gateway into Port Glasgow open
Monday 13 November 2017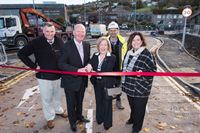 Work has been completed on the first phase of an Inverclyde Council regeneration project to create a new entrance into Port Glasgow town centre and a new civic space in front of the Town Hall.
Works to the new spur road has been built off the A8 forming a junction with Shore Street and Princes Street has now opened to traffic today (13 Novemebr 2017). This will allow the stretch of road directly in front of the Town Hall in Shore Street to be closed to traffic to facilitate the new resurfacing.
Regeneration Convener Councillor Michael McCormick said: "The new road opens up the town centre to traffic directly from the main route in and out of Inverclyde. It should significantly boost existing businesses and attract fresh investment into the area. Providing better connections into the town centre was one of the high priority recommendations of the regeneration master plan for Port Glasgow so I am delighted we are seeing this phase of the project completed before the festive period." The lower town quarter project which received a Regeneration Capital Grant award from the Scottish Government and COSLA in 2016 also includes the demolition of redundant buildings at the rear of the town hall to create a civic square."
The new road will have footways on either side and a grass lawn on the site of the present car park.
A new hard-landscaped civic space extends over Shore Street from the front of the Town Hall. To make room for the new spur road the existing civic square around the Comet has been reduced..
The project is being delivered on behalf of the Council by the urban regeneration company Riverside Inverclyde.
Chief Executive Fiona Maguire said: "This is the latest phase of the ongoing regeneration of Port Glasgow and we hope this will make a real difference to the traders in Port Glasgow."
The Port Glasgow town centre master plan was developed in 2014 after speaking extensively with local residents and businesses who identified the need to develop a new gateway to the town centre as a priority for investment.
In addition to the new access into Port Glasgow from the A8 the Port Glasgow regeneration strategy and master plan recommends environmental improvements to the town centre; removal of redundant buildings; the restoration of empty shop units to provide 'fit for purpose' retail space and new office and commercial accommodation.
Page last updated: 13 November 2017