Crocheting Causing a Storm across Inverclyde
Tuesday 10 October 2017
Colourful crocheted and knitted decorations have been the talk of Inverclyde after mysteriously appearing on trees in prominent locations.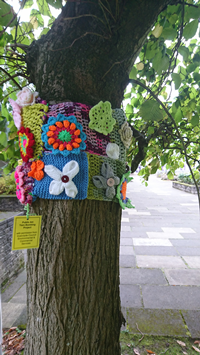 They are all part of a public yarn storming project for this year's Scottish Mental Health Arts Festival (SMHAF).
Health & Social Care Convener Councillor Robert Moran said: "Knitting and crocheting have been shown to improve mental well-being so crafters have been involved in making bright and colourful flowers to brighten and warm-up some of the local trees. Hopefully we can raise a few smiles while raising awareness and reducing the stigma surrounding mental health by getting local people talking."
Contributors say it has been a really positive experience being involved:
"Crocheting is a great way to relieve stress for me. It has a nice, calming effect on my mental health and it's a good 'escape'. There's also a great sense of satisfaction when you finish a project and that's a good boost, too. I was keen to get involved with the yarn storming because I think it's a good way to encourage others to get back to knitting or crocheting or to maybe try it out for the first time because it's great for everyone's mental health."
"Knitting and crocheting keeps my mind and my hands and fingers active. I enjoy producing finished useful articles. This gives me a feeling of pride as well as the satisfaction of giving to family and friends. I go to a craft group where I have company, conversations and fun - which can and does reduce social isolation and stress - whilst learning and developing new skills. There are always people who are talented and are more than happy to share their knowledge."
"I find knitting a great way to wind down at the end of the day as well as getting a great sense of achievement when you create something from scratch.
"Our knitting group is always looking for knitting projects to support local causes and dedicates the last session of the month to these projects. The group really enjoyed taking part in the yarn storming for SMHAF. We recognise the benefits for your mental health when you have a hobby you enjoy doing, being part of a group helps, as well as all the nattering"
Yarn storming is believed to have begun in the United States with knitters in Texas looking for creative ways to use their leftover and unfinished knitting projects.
Now a worldwide phenomenon objects that have been yarn stormed range from lampposts and public benches, to taxis and even bridges.
Launched in 2007, Scottish Mental Health Arts Festival (SMHAF) has grown into one of the largest festivals of its kind in the world, with over 300 events and 25,000 attendees across Scotland each October.
Events are taking place at venues across Inverclyde including the Beacon Arts Centre and Dutch Gable House in Greenock and Parklea Branching Out in Port Glasgow
Yarn storming locations:
• Coronation Park
• Clyde Square
• Esplanade
• Adjacent to former site of Larkfield Masonic Club (corner of Inverkip Rd & Auchmead Rd)
• Pier Head, Gourock
Page last updated: 10 October 2017