Girls Get Active in Inverclyde
Monday 9 October 2017
Hundreds of youngsters at Inverclyde Council's primary and secondary schools have been taking part in 'Scottish Women and Girls in Sport Week'.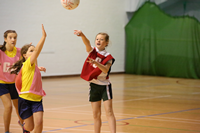 Working with sportscotland the Council's Active Schools team have been organising events to help raise awareness of the importance of taking part in sport and physical activity.
Communities Vice Convener and Young Person's Champion Councillor Natasha Murphy said: "The percentage of girls taking part in extra-curricular sport (51%) in Inverclyde is already above the Scottish average (47%).
"That is a statistic we are very proud of as we know how crucial sport is to good health and well-being, self-esteem and developing social skills.
"But despite our successes in some areas there is still a marked difference in the numbers of women and girls taking part in some sports compared to men and boys and we need to do all that we can to change that."
Throughout the week pupils across Inverclyde have been taking part in a wide variety of sports and physical activities including netball, dance, football, trampolining and volleyball.
Friday 6 October marked Active Girls Day where schools, clubs and community sport hubs celebrated the efforts going into girls' sport.
Inverclyde Council's Sports Champion Councillor Ronnie Ahlfeld said: "As a country Scotland has a lot to be proud of when it comes to women and girls in sport. We have achieved some significant successes on the international stage which in turn provides wonderful role models for the next generation to aspire to. I am delighted that we have been able to play a significant role locally in tackling the many barriers to participation and encouraging women and girls to take part."
Page last updated: 9 October 2017