New-look Nursery Ready
Tuesday 3 October 2017
Inverclyde Council has completed the £1.3 million refurbishment of a Greenock nursery.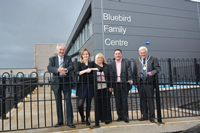 The Bluebird Family Centre in Greenock has undergone a complete transformation including a new extension at the main entrance, re-roofing and new surfacing in the playground and soft play areas.
Education Vice Convener Councillor Martin Brennan said: "The new-look centre is a huge improvement and I know will be a big hit with the children, staff and parents when they move in later this month.
"This is the latest project to be completed as part of our comprehensive £270 million school estate investment and I would like to thank everyone involved for delivering such a high quality facility at the heart of the local community."
The refurbishment includes new double-glazed windows, a lift and external ramps to the front and rear of the building.
The nursery has been operating out of temporary accommodation in St Joseph's Primary school while work has been carried out.
Gillian McDougall Head of Centre said: ""Our newly refurbished building will contribute to the high quality service we provide for our children and families. There are really exciting times ahead for the staff and children at Bluebird Family Centre and we are looking forward to experiencing all of the delights our new centre has to offer. We would like to thank Alan Graham and his staff team who have been very accommodating during our decant and as we move on we know that we will continue to work closely to support all of the children and families in our community"
Communities Vice Convener and Young Person's Champion Councillor Natasha Murphy said: "As the name would suggest Bluebird is far more than just a nursery. It is a facility at the heart of the local community with activities, classes and groups for adults as well as individual support for parents and carers. Family sessions during school holidays maintain that support.
"It has also forged strong links with local primary schools to ensure the transition process –which begins in early pre-school years – continues into primary school. I am sure children and their families will continue to thrive for many years when they move back."
Photograph: (LtoR) Councillor John Crowther (Ward 7), Councillor Natasha Murphy (Ward 7), Gillian McDougall, Councillor Tommy McVey (Ward 7) and Provost Martin Brennan.
Page last updated: 3 October 2017