Options Open for Cemetery Expansion
Friday 1 September 2017
Inverclyde Council is to explore a number of options to create more space for burials with four of its six cemeteries unsuitable for expansion.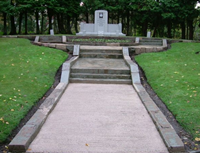 The Environment & Regeneration Committee has been told there are enough burial lairs available in Knocknairshill Cemetery to meet demand for the next four and a half years.
However, further expansion there and at Greenock, Port Glasgow and Gourock is not feasible due to unsuitable ground conditions.
Convener Councillor Michael McCormick said: "Providing burial lairs is an obligation for the Council and clearly we have to explore other options other than simply expanding our existing cemeteries. We have been speaking to the owners of land next to Kilmacolm and Inverkip cemeteries but we will also look for other possible sites in Inverclyde."
Not all land is suitable for development as a cemetery. The presence of rock, the steepness of the site, nearby watercourses and drainage all have to be taken into account.
£1.5 million has already been approved for cemetery development but given the likelihood that land will have to be purchased this figure will be reviewed as part of the current budget consideration process.
There are six local authority managed cemeteries within Inverclyde in which burials take place: Inverkip Gourock Greenock Knocknairshill Port Glasgow and Kilmacolm.
The provision of burial lairs is a statutory obligation on local authorities therefore Inverclyde Council is required to continue to provide burial lairs.There is sufficient
burial lair capacity in Knocknairshill Cemetery to meet demand for approximately 4.5 years. Knocknairshill is the only cemetery in Inverclyde which has new lairs available
Page last updated: 1 September 2017