'Read Between the Lines' for International Suicide Prevention Day
Monday 4 September 2017
People in Inverclyde are being told 'If you can read between the lines, you can save lives.'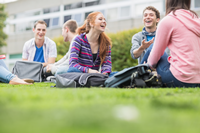 That is the message from Choose Life (NHS Health Scotland) to mark this year's International Suicide Prevention Day (10th September).
Last year 8 people in Inverclyde took their own lives, leaving a lasting and devastating impact on families, friends and communities.
Councillor Robert Moran, Convenor of Inverclyde Council's Health & Social Care Committee says "Inverclyde has been delivering suicide prevention training for a number of years and over 2,500 people have now been trained. We also support the local branch of Samaritans, provide stress management services and offer help to people who have been affected by suicide through the local CRUSE service and Survivors of Bereaved by Suicide (SOBS)."
The 'Read between the lines' campaign calls on everyone to be alert to the warning signs of suicide in people close to them. The message is that if you're worried about someone, such as a friend, family member or workmate, asking them directly about their feelings can help to save their life.
The campaign targets men and women who are likely to be in greatest contact with people most at risk of suicide, especially men aged 30-59. In Scotland, the suicide rate for males was more than two-and-a-half times that for females.
Councillor Moran added: "You tend to know when someone close to you isn't quite themselves. So if you notice any changes in their behaviour that worry you – even if the signs come and go – ask them about it. You'll find that talking can help a person get clarity about what it is that's troubling them, and often gives a sense of perspective. Starting a conversation is half the battle. You don't need to have an answer to their problems – just be there for them, try to listen carefully without judging, and show that you care."
Campaign posters and information booklets will be displayed at a range of places including community centres, Job Centre Plus, GP surgeries, pharmacies, work places and local police stations.
The Scottish Government's Suicide Prevention Strategy was launched in December 2013 and is implemented at national and local levels. It is anticipated that there will be a new strategy towards the end of 2017.
Inverclyde HSCP has a suicide prevention/mental health improvement plan called 'Making Well-being Matter in Inverclyde'.
For information on what do if you are worried someone is feeling suicidal, and to download 'The Art of Conversation', a free guide on spotting the signs, starting a conversation and being a good listener follow the Choose Life link on this page.
Page last updated: 4 September 2017