Former Provost Invited to Royal Wedding
Tuesday 17 April 2018
A former Inverclyde Provost has been invited to Prince Harry and Meghan Markle's wedding on Saturday 19 May.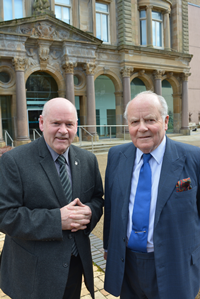 Councillor Robert Moran has been asked by the Queen's representative Mr Guy Clark, the Lord-Lieutenant of Renfrewshire - incorporating Inverclyde, Renfrewshire and East Renfrewshire).
Councillor Moran said: "It is a huge honour to have been asked and I feel extremely humbled.
"I am looking forward to representing Inverclyde once again as the country comes together to celebrate the Royal Wedding and to wish Prince Harry and Meghan Markle a long and happy life together."
More than 1000 members of the public have been invited to the grounds of Windsor Castle to watch the arrival and departure of the bride and groom.
They include charity workers, school children, royal household members and local people.
Mr Guy Clark said: "Councillor Moran was incredibly supportive when I arranged for Her Majesty the Queen to come to Greenock in 2012.
"I was delighted she accepted my invitation to come as part of her Diamond Jubilee celebrations and the effort Inverclyde Council and Councillor Moran put in to ensure it was a success was remarkable.
"Her Majesty told me how delighted she and the Duke of Edinburgh were to see Greenock in all its splendour on the day.
"This is my way of saying thank you to him."
Page last updated: 17 April 2018