Official Opening for Greenock Nursery
Tuesday 24 April 2018
An Inverclyde nursery has been officially reopened after undergoing a £1.3million refurbishment.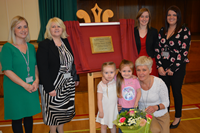 The Bluebird Family Centre in Greenock has been completely transformed thanks to a new extension, playground and soft play areas.
Communities Vice Convener Councillor Natasha Murphy unveiled a plaque to mark the occasion. She said: "Bluebird has been a part of this community for many, many years. Both of my younger brothers came here and I remember how much they loved it.
"As a Council we decided to invest in our school estate to provide the best facilities that our children deserve and allow them to have the very best start in life.
Bluebird is a wonderful place for children to learn, play and grow and it is clear they love the flexibility and vibrancy of the new-look nursery."
The refurbishment includes new double-glazed windows, a lift and external ramps to the front and rear of the building.
The nursery had been operating out of temporary accommodation in St Joseph's Primary school while work was carried out.
Head of Centre Gillian McDougall thanked everyone involved in the planning and refurbishment of Bluebird Family Centre and said: "This has enhanced our very good practice in terms of the children's learning and teaching providing a safe environment for the children to develop and learn. The new layout of our building gives free flow access to outdoor learning."
Inverclyde Council's £270million school estate investment is on track to be completed five years early.
The final major projects in the programme delivering brand new or fully refurbished schools are about to get underway.
St Mary's Primary school in Greenock is to undergo a £6million refurbishment and extension.
Gourock Primary is also due to undergo a £1.7million extension.
The new £9.2million St Ninian's Primary in Gourock and £3.4million Glenpark Early Learning Centre are due to be completed in the coming months along with the refurbishments of Moorfoot Primary in Gourock - £5million – and Lady Alice Primary in Greenock - £3.8 million.
Photograph: (L to R) Nicola Clark, Acting Senior, Gillian McDougall Head of Centre, Lily May (aged 4), Keira (aged 4), Hiltja Mulholland Early Years worker, Councillor Natasha Murphy and Claire McIntyre, Depute Head of Centre.
Page last updated: 24 April 2018