Parliament pressed for change
Thursday 12 April 2018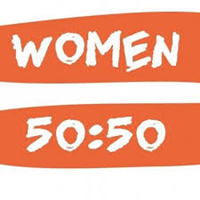 The Scottish Parliament is being urged to push forward legislative change that would encourage more women candidates in councils and the parliament in Edinburgh.
The motion, agreed by the council at its meeting today (12 April 2018), highlighted the underrepresentation of women in chambers across Scotland. It also supports the Women 50:50 campaign call for legislated candidate quotas and backs fair representation of women across Scotland's council and parliamentary chambers.
Inverclyde Council Leader, Councillor Stephen McCabe, said: "Despite various parties trying different mechanisms to encourage more women into politics the time has clearly now come for legislative change.
"Over my career I have worked with many women councillors and each brought something unique to their work and their communities. Some were inspirational, some were calmly efficient and others were formidable in their support for their communities. The one thing they had in common was that at no point has there been an equal representation of men and women in the council chamber or in the parliament.
"Legislative quotas will not be easy to implement. The time is now right for a sea change in Scottish politics. Inverclyde Council, by agreeing this motion, is formally calling on our parliamentarians in Edinburgh and our local list and constituency representatives to join us in supporting the legislative change necessary to support the Women 50:50 campaign and promote equal representation in council chambers and in the parliament itself."
The full text of the motion agreed at the council meeting reads:
"The council notes that women are under-represented across councils in Scotland and make up only 29% of councillors.
"Council further notes that whilst voluntary mechanisms such as all women shortlists, networks and mentoring have made some progress, women are still not represented equally. Council notes that despite these measures 29% is the highest proportion of women in council in Scotland's history.
"The council congratulates the Women 50:50 campaign which has been working across all political parties and has gained support from the SNP, Scottish Labour, Scottish Liberal Democrats and Scottish Green Party leaders and co-conveners.
"The council supports Women 50:50's aim for fair representation of women in Scotland through legislated candidate quotas and backs the campaign's call for fair representation of women across Scotland's public life.
"The council recognises that women are not a homogenous group, and that in any of our outreach work to encourage and champion women we should ensure that we engage a diverse group of women from different races, cultures, religions, disabilities, socio-economic statuses and sexualities."
Page last updated: 12 April 2018