Stakes are high for butcher's Excise Duty fraud
Monday 16 April 2018
An Inverclyde butcher has been sentenced after more than 13,000 illicit cigarettes were found within his shop.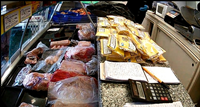 A joint operation between HMRC and Inverclyde Council Trading Standards uncovered 4,500 king-size Paradox and 8,860 king-size Mayfair cigarettes at J. Maitland Butchers in Greenock's Lynedoch Street on three separate occasions last year. Four kilograms of Amber Leaf hand-rolling tobacco was seized as well. The goods were found with the aid of Dixie the sniffer dog and her handler.
The owner of the business, Adam Johnstone-Smith, 71, was detained, interviewed and charged on 22 August 2017. He pleaded guilty to Excise Duty fraud worth £4,548 on 16 March 2018 at Greenock Sheriff Court and was sentenced to a Community Payback Order of 150 hours unpaid work on Wednesday at the same court.
Cheryl Burr, Assistant Director, Fraud Investigation Service, HMRC, said:
"The sale of illegal tobacco will not be tolerated by us or our partner agencies. Disrupting criminal trade is at the heart of our strategy to clampdown on the illicit tobacco market, which costs the UK around £2.5 billion a year. This is stealing from the taxpayer and undermines legitimate traders. Now Johnstone-Smith has a criminal record.
"We encourage anyone with information about the illegal sale of tobacco to contact our Fraud Hotline on 0800 788 887."
Inverclyde Council Communities Convener Councillor Jim Clocherty said: "Illicit tobacco undermines every health initiative to reduce smoking rates. This particular trader was not registered to sell tobacco nor was he displaying the statutory notice warning that it is illegal to sell tobacco to under 18's.
"Smoking is the biggest preventable killer in Scotland. All cigarettes are dangerous but illegal ones even more so because they are not checked and could contain anything.
"Inverclyde Council will continue to play its part in the nationwide effort to carry out enforcement exercises targeting rogue traders."
Charges: Evasion of £4,548 Excise Duty, contrary to S170 (1) (b) of the Customs and Excise Management Act 1979.
Plea: Guilty
Sentence: CPO. 150 hours unpaid work to be completed within six months.
Court: Greenock Sheriff Court
Page last updated: 16 April 2018