Wilma Bain
Wednesday 11 April 2018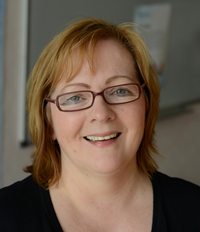 Inverclyde Council's leader and chief executive have expressed their sorrow at news of the death of the council's corporate director of education, communities and organisational development Wilma Bain.
Inverclyde Council Leader, Councillor Stephen McCabe, said: "It is a sad day for everyone who knew Wilma. That sadness, though, will I am sure in time give way to smiles for those of us lucky enough to have spent time in Wilma's company.
"Wilma led the education service in Inverclyde recently as corporate director and prior to that as head of service and as a quality improvement manager. In the past 11 years, Wilma Bain has been one of the key people behind Inverclyde's education success.
"There are young people now and young people going through our education service who may never know Wilma but who have received a high quality education thanks to the hard work done by Wilma and the teams she led during her career. It is a legacy of a life that was too short by far but one that was packed with achievement."
"On a personal level, it has been a real privilege for me to have worked with Wilma over a number of years. I will greatly miss her warmth and her wise counsel. I send my deepest condolences to her husband David and daughter Morven."
Inverclyde Council Chief Executive, Aubrey Fawcett, said: "During the past year Wilma was a true inspiration in how she faced the cancer diagnosis she received with positivity, determination and always with a smile.
"I know that for anyone who knew or met Wilma this will be heart breaking news. Knowing Wilma I am also sure that she would not have wanted people to be sad but to remember with joy the life she lived.
"As a colleague Wilma was an inspirational professional who fought for and defended her services, cared about Inverclyde and especially the opportunities education provided to the lives of the young people we served. She brought positivity and good humour to any room she entered and our council and Inverclyde are the better for her."
Wilma Bain started her career with the former Strathclyde Regional Council in August 1985 as a teacher of business studies. She had a range of roles including assistant head teacher at Loudon Academy before joining East Renfrewshire Council as a quality improvement officer in 2001.
In 2007, Wilma joined Inverclyde Council as quality improvement manager for three years before becoming head of education in 2010. She had a short spell as head of education with South Lanarkshire Council in 2015 before becoming Inverclyde Council's corporate director of education, communities and organisational development in November 2015.
Wilma is survived by her husband David and daughter Morven.
Page last updated: 11 April 2018