'A' Class Act – Pupils Celebrate Higher Success
Friday 10 August 2018
Inverclyde Council secondary pupils have been celebrating top marks in their Higher exams after achieving five 'A' grades.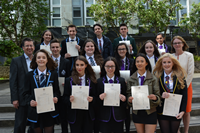 Education & Communities Convener Councillor Jim Clocherty has been on hand to congratulate the successful pupils. He said: "What an outstanding achievement for everyone. I would like to say well done to each and every one of them for their efforts and wish them the very best for their future studies.
"It is no mean feat to gain A's in every subject and I know a lot of hard work and effort has gone in to these results."
It has been another record year for exam results in Inverclyde with the percentage of S5 pupils gaining five or more Higher awards the highest ever.
More than three out of every ten S6 pupils – 30.5% - achieved at least five Higher qualifications which is a threefold rise over the last 11 years.
In S5, 16.1% of pupils achieved 5 Higher awards up from 13.8% last year; 35% achieved three passes - up from 33.5% in 2017 - and the number gaining at least one Higher rose by 4.2% to 61.5%.
The percentage of S5 pupils gaining five or more National 4 and five or more National 3 awards have both risen to 78% and 83.5%. Those achieving five or more Nation 5 awards stands at 56.6%.
After a record year in 2017 where the number of S4 pupils achieving five or more National 5 passes was at a 10 year high at 38.2% the results have returned to just above the 2016 figure at 35.5%.
By the time pupils leave school at the end of S6, 31% of pupils achieve five Higher awards - up from 28.7% in 2017 -, 43% achieve three passes which is up from 33.5% and the percentage gaining at least one Higher rose by 4.2% to 61.5%.
Councillor Clocherty added: "Education is key to ensuring the future economic and social prosperity of Inverclyde and this year's results reflect.
"We are educating a generation in new and refurbished state-of-the-art schools with motivated, professional and dedicated teaching and support to give our children and young people the best possible start in life."
Picture: Councillor Clocherty and Ruth Binks, Corporate Director Education, Communities and Organisational Development with 14 of the 16 successful pupils.(David Watt and Zara Weir unavailable)
| | | |
| --- | --- | --- |
| Name | | no of As |
| David Curley | St Stephen's High School | 6 |
| | | |
| Adam Heron | St Columba's High School | 5 |
| | | |
| Alison Goh-Stuart | Clydeview Academy | 5 |
| | | |
| Caitlin Church | Clydeview Academy | 5 |
| | | |
| Cassie O'Neill | Inverclyde Academy | 5 |
| | | |
| Clara Pollock | Clydeview Academy | 5 |
| | | |
| David Watt | St Stephen's High School | 5 |
| | | |
| Iona Tormey | St Columba's High School | 5 |
| | | |
| Jamie Morris | Inverclyde Academy | 5 |
| | | |
| Jasleen Sanghera | Clydeview Academy | 5 |
| | | |
| Joanne Lee | Clydeview Academy | 5 |
| | | |
| Kayla Orr | St Columba's High School | 5 |
| | | |
| Nadia Coyle | Notre Dame High School | 5 |
| | | |
| Paul Campbell | St Columba's High School | 5 |
| | | |
| Susanna Demelas | Clydeview Academy | 5 |
| | | |
| Zara Weir | St Columba's High School | 5 |
| | | |
Page last updated: 10 August 2018