Inverclyde Pledge for a Tobacco-free Scotland
Friday 10 August 2018
The community planning partnership the Inverclyde Alliance has promised to help contribute to a tobacco-free Scotland.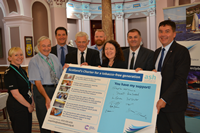 It has formally signed Action on Smoking and Health (ASH) Scotland's Charter for a Tobacco-free Generation – an initiative to help reduce the harm caused by smoking and to deliver a tobacco-free generation by 2034.
Inverclyde Council Leader Councillor Stephen McCabe is Chair of the Inverclyde Alliance.
He said: "Smoking is a key contributing factor towards inequalities in health and healthy life expectancy between the most affluent and poorest within Scotland and Inverclyde.
"Good progress is being made. We know that fewer young people have tried smoking, there has been a reduction in adult exposure to second-hand smoke and smoking in pregnancy continues to fall.
"Much has been done in Inverclyde. We were the first council in Scotland to introduce smoke free play parks and family events and our smoking cessation services hold regular sessions in the community.
"Much is already being done. By supporting the Charter we can ensure we are all working together towards a common goal."
The Inverclyde Alliance will refresh its Tobacco Strategy and Action Plan, establish the Inverclyde Tobacco Alliance and take a lead role in encouraging local organisations and businesses to sign-up to the ASH Charter.
Sheila Duffy, Chief Executive of ASH Scotland, said: "Scotland has a vision for putting smoking out of fashion for the next generation, with fewer than 5% of the population still smoking by 2034.
"Scotland's Charter for a Tobacco-free Generation is proving to be an effective way to align organisations in the fight against tobacco and the harmful effects it has on children and young people.
"I'm delighted to welcome the Inverclyde Alliance as a Charter signatory, joining us in our work towards a generation free from tobacco.
"We're encouraging organisations and people in all walks of life to get behind this initiative and make a big difference for Scotland's health, and with more than 220 organisations across Scotland now being signed up, it's going to make a huge difference to the people of Scotland."
Charter signatories now stand at more than 220 across Scotland
The Inverclyde Alliance (IA) is the Community Planning Partnership for Inverclyde. It was established in 2003 and re-launched in August 2007.
The Inverclyde Alliance Board is a partnership involving:
Community Councils
Greater Glasgow and Clyde NHS
Greenock Chamber of Commerce
Greenock and District Trades Council
Inverclyde Council
Job Centre Plus
Scottish Enterprise
Skills Development Scotland
Scottish Fire and Rescue
Strathclyde Partnership for Transport
Police Scotland
Voluntary Sector representation facilitated by CVS Inverclyde
West College Scotland
Page last updated: 10 August 2018