New Look for Lady Alice
Tuesday 21 August 2018
One of the oldest of Inverclyde Council's primary schools has undergone a complete transformation thanks to a multi-million refurbishment.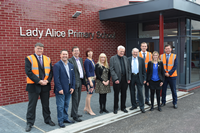 Pupils at Lady Alice in Greenock returned for their first day back in the building after spending the past year in temporary accommodation while the £3.8million project was completed.
Head teacher Gail Connick said: "We are delighted with the opportunities that our new building gives to our pupils. There is more space for teaching, a new dining and activity hall and up-to-date modern facilities.
"The children who have been in already have been thrilled – they love the fact that some of the original features have been kept.
"We are all set for a new school year and to take our place once again at the heart of the local community."
Built in 1937, the original exterior of the building has been retained while the inside has been completely reworked and modernised and a new reception area added.
A lift has been installed alongside the latest classroom teaching technology while the school boasts a hi-tech audio and lighting system in the assembly hall.
Education & Communities Convener Councillor Jim Clocherty said: "They have practically built a new school within the existing walls. The finish is fantastic and you can see that every little detail has been carefully thought through and considered.
"Any refurbishment of an old building presents its own unique challenges and I am extremely grateful to everyone involved in this project for delivering such a high quality result."
The project was delivered by Clark Contracts. Director Michael Scanlan said: "We are thrilled to have delivered the extension and refurbishment of Lady Alice Primary School and we hope the staff and pupils enjoy their new school facilities".
Lady Alice is the latest school to undergo a complete refurbishment as part of Inverclyde Council's £270million investment in its school estate.
Councillor Clocherty added: "This is another significant step towards delivering on our promise that every child and young person in Inverclyde will be taught in a brand new or refurbished building by 2020."
Photograph (LtoR)
John Keenan, Contracts Manager, Councillor Tommy McVey, Councillor Jim Clocherty, Gail Connick, Head Teacher, Lesley Caldwell, Depute Head, Councillor Martin Brennan, Councillor John Crowther, Andy Sorlay, Project Manager, Councillor Natasha Murphy and Michael Scanlan, Director
Page last updated: 21 August 2018