New Term Begins for Inverclyde's new Teachers
Thursday 16 August 2018
A former golf professional, a bassist in a rock band and a retail manager are among four men taking up a new career as Inverclyde Council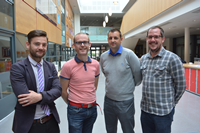 primary school teachers.
The new school year gets underway with 42 probationers taking their first steps into the classroom in one of the largest intakes in recent years.
Education Convener Councillor Jim Clocherty said: "I am delighted to welcome everyone on board for the new academic year.
"All have worked extremely hard to be here and I know their dedication and professionalism can only benefit the children and young people of Inverclyde.
"I am particularly pleased to be able to welcome such a significant number of male teachers into our primary schools. It is a big step towards redressing the gender balance in primary staff."
Kevin Campbell believes his experience as a golf professional will stand him in good stead in the classroom: "I have worked with children in sport and have already experienced working in a primary school atmosphere. I am really looking forward to getting started."
After three years travelling around Canada, David Stafford returned to the UK and saw teaching as a great opportunity: "Teaching is something I have always wanted to do and I worked in camps while I was in Canada. I really enjoyed working with children and young people so when I got back I completed my degree and took the next steps into a career in teaching."
Max Byrne spent 15 years working in retail management but thinks he should have made the move into the classroom a long time ago: "I kind of fell into my old job but every few years would think about a change of career. There was always a reason not to but a couple of years ago I just though the time is right and here I am. I think we all have a huge range of transferable skills and experiences that can only benefit the children and the schools."
When it comes to standing in front of a class of children Andrew McShane won't be suffering any stage fright. He has spent years playing in a successful band but wanted to take his life in a different direction: "My wife is a primary teacher and when I became a dad I loved looking after the kids. My degree is in modern languages and I also do football coaching so I am looking forward to bringing all of those skills to school and enjoying the variety and enthusiasm of primary education."
Photograph: (LtoR) Andrew McShane, Max Byrne, Kevin Campbell and David Stafford.
Page last updated: 16 August 2018