Top Recruit Revealed
Monday 20 August 2018
The winner of Inverclyde Council's award-winning personal development programme The Recruit has been named.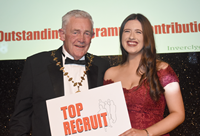 Murin Keith took the Top Recruit 2018 title after completing a four month programme of challenges and activities with local organisations.
She will now take up a post with West College Scotland while another five young people have secured jobs after completing the programme.
Communities Vice Convener – herself a former Recruit candidate – Councillor Natasha Murphy said: "Over the years more than a hundred young people have secured contracts with employers as a direct result of the programme.
"Many more have gone on to find employment as a result of the skills, attitudes and understandings they have developed by taking part and taken with them beyond the school gates.
"As Young People's Champion I am absolutely delighted by the continuing success of this award winning programme - it just seems to go from strength to strength."
Now in its 12th year young people from S5 and S6 years in Inverclyde Council's secondary schools took part in a series of challenges testing their entrepreneurial skills from profit counting to marketing and branding.
The six successful candidates were selected based on their performance, attitude, potential, personal drive, determination and employability skills throughout the five month programme.
They have secured posts paying salaries of up to £14,000 from local firms KBS Engineering, West College Scotland, Royal Bank of Scotland, Inverclyde Council and Pursuit Marketing, Glasgow.
Councillor Murphy added: "In Inverclyde we have developed and continue to establish strong partnerships with employers.
"Our schools are also achieving fantastic results with staff and students willing to grasp every opportunity to develop the skills required for life and work.
"The Recruit helps to deliver the development of employability skills and partnership working with the prospect of paid employment at the end.
"But it also benefits every young person who takes part - not just those who secure the jobs. I would like to congratulate them all for their outstanding efforts and wish them the best for their future careers.
"I would also like to thank the many businesses and individuals who have supported this project and who recognise the importance of supporting Inverclyde's inspirational young people."
Ardgowan Hospice has been the sole beneficiary of all donations to The Recruit programme. This year Cancer Research UK will also be supported.
This year's candidates raised £6500 bringing the 12 year total to almost £115,000.
The Recruit 2018 winners are:
West College Scotland: Murin Keith
Pursuit Marketing: Caitlin Rodgers
Pursuit Marketing: Niamh McKenna
Royal Bank of Scotland Caitlin McNab
Inverclyde Council Rebekkah Smiliie
Kilpatrick Blane Services (KBS) Matthew Keaney
Thanks to: Royal Bank of Scotland, Amazon, Inverclyde Council; Auchengillan Outdoor Centre, Live n Learn, Former Recruits, Tree of Knowledge, Phoenix Car Company, Clearwater Brookes, Clearview Minds, DYW West, Elevator, West College Scotland, Riverside Inverclyde, Victoria Hamilton, CLD, The Co-Op, The British Army, Babygrand Productions, Kip Marina / The Chartroom, Watt Nicoll Associates, Active Schools, KBS Engineering, Pursuit Marketing, Ardgowan Hospice, The Foodbank, Robert MacDonald, Discover Fortunes, and entrepreneurs Gary McEwan, Vikki Hamilton, Donna Bryson, and Watt Nicoll.
Page last updated: 20 August 2018